Hi, My name's Anna and I've never participated in a KAL before. I live in Sydney and I have only a few simple goals for SSS.
- Knit my first pair of socks
- Knit one pair of socks a month (between October and March)
- Knit one pair of
Earl Grey
socks.
- Knit one sock for my keyring sockblocker.
I've managed to achieve my first goal - my first pair of socks!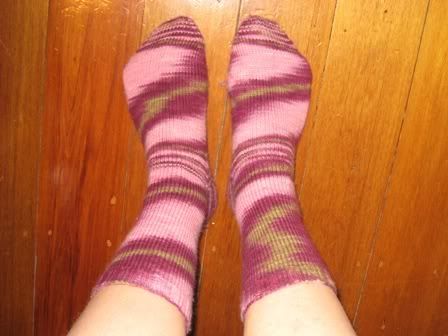 They were knit top down on 2.5mm dpns. They were knit using
Yarn Harlot's
Plain Vanilla Sock receipe and the yarn is Raspberry tart (I think!) from either
here
or
here
. (I can't remember, my secret pal sent the yarn to me.)
The socks weren't as hard as I imagined,(why does everyone make out sock knitting is so hard?) although I was still a little confused when I turned the heel (I don't really understand how that works) and they took about 2 weeks to complete a pair. I can't wait to start another pair for myself (unfortunately, I have all this other knitting to do first).
Anna -
Knit1 Purl1