Working in a retail yarn shop can be hell sometimes, but you do get the occasional perk... like getting to knit a sample ball of a hot new yarn that isn't even available in Australia yet!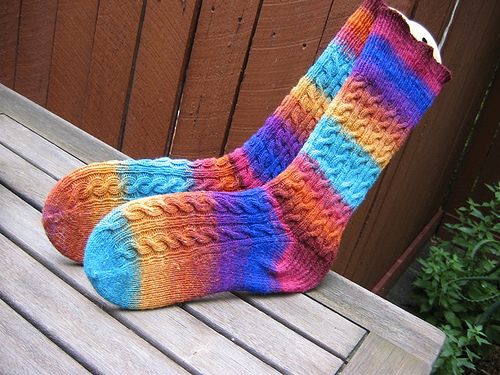 This is
Widdershins
(from Knitty) knitted out of the brand new "Noro Kureyon Sock" yarn. Everybody wants to know: Is it soft? Welll... it's Noro. If you've knitted with Noro, you know what you're in for. It was scratchy as all hell to knit with, but I'm hoping it'll soften up with a wash. But I don't think the softness is a dealbreaker; it's the COLOURS that everybody buys this stuff for. (This is colourway #180, for future reference. I was also pleasantly surprised by the length. A 100g ball of this stuff goes a loooong way. I'm not sure who's going to be selling it in Australia yet, but
Prestige Yarns
are the ones who'll be importing it.
You can read more about the pattern and the techniques I used on my blog
here
. I'm just glad I'm still on track for one pair per month!