I haven't posted in a while. I've been quite busy doing other things (like knitting my Easter Show project) and my computer access at work has been limited.
However, I have almost kept most of my
goals
for SSS.
- Knit my first pair of socks -
Done!
- Knit one pair of socks a month (between October and March) -
so far so good (kinda)
- Knit one pair of
Earl Grey
socks -
Done (see below - two pairs)
- Knit one sock for my keyring sockblocker.
November socks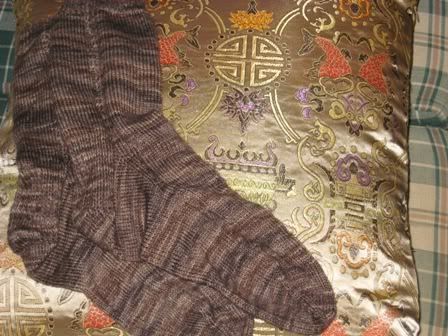 I knit these socks for fiance, Clem, for Christmas. They're
Earl Grey
socks, made from
Merino Cashmere 4ply in the Chocolate colourway
from
The Knittery
.
December socks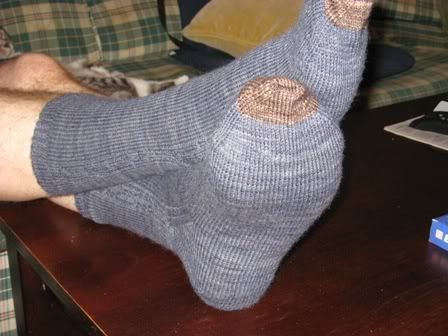 These were my dad's Christmas socks. They're also using the Earl Grey pattern (again) and knit in
Ranco
. Unfortunately, I ran short of yarn by a couple of metres and so had to use some of the leftover chocolate yarn to fill in the toes (which will luckily be hidden inside shoes).
January socks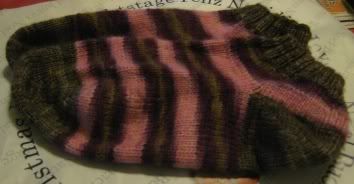 These are my chocolate raspberry tart leftover socks, using up some of the left over yarn from my October and November socks. I could have made them longer or used only one colour though, as I had more yarn than I thought. Still they were quick to knit, and my first attempt at short row heals, and finally worked out how to pick up wrapped stitches =)
February socks
These are socks for my friend, Bec. They're just plain 3x1 rib socks in Ranco. Techinically they were mainly knit in March, but if I managed to finish another pair by the end of March, then I think it still counts.
I can't believe I only knit my first pair of socks in October. Thanks for all your encouragement, inspiration and support. It's been wonderful.
Anna (
Knit1 Purl1
)